Every pioneer has a life story and a life lesson. In 1989, 40 young women, aged 13-16, stepped onto Clinton's campus and unknowingly forever altered the course of CRS and their own lives. They were courageous settlers of a new home, a new spirit, and new opportunities that reached hundreds of young women years following. Where are they now? Thirty years after CRS first started girls' programming, 6 of those pioneers shared a glimpse of their Camp experience, of their post-Camp life, and of the lessons they carry with them! Each pioneer from 1989 was interviewed by me, Monica Janvier, one of the over 1,600 young women who have followed in their footsteps!
Susan grew up in Prospect Heights, Brooklyn, NY as the youngest of four children. Her father worked as a math teacher and her mother was a homemaker and a one-time Genetics Researcher. Susan is of Irish, Polish, and African American descent.
She described her evolution from a "super go-getter" at Brooklyn Technical High School to becoming a Performing Arts Professional specializing in Circus and collaborative theater. Her life lessons speak to those who fear to pursue a career in their passion - especially in the arts


CRS Memories
At 13, Susan decided to attend CRS. Nostalgically, she recounts her first hiking experience:
This was an unforgettable, wild experience as she felt stranded with others who were similarly unconfident in hiking skills.
Despite her challenging hiking experience, Susan returned to CRS in 2003 as the drama counselor in Stendis, Denmark. She remembers this as being a drastically different, yet an insightful experience as she was then a lifetime older than the campers.
Pursuing the Arts
Susan initially pursued the career path to become a physician, but in her early twenties, she soon found her love in circus performance.
At the age of 21, Susan experienced what "the impossible" might look like when viewing the modern circus of Paris. She studied theater at École Internationale de Théâtre Jacques Lecoq, training for a year, and eventually began her professional career as a performance artist.

To Susan, art is a tool used "to make sense out of the world that we live in". Similar to religion, "Art is another tool to help you understand yourself in the world…". She describes circus performance as a multi-dimensional spiritual experience in which the audience is viewing the final art piece and "receiving it" through the artist(s).
Despite following her passion, her decision to not become a physician and to enter a creative field came with great challenges.
Susan overwrites the disappointments and rejections that naturally come with any pursuit of happiness by creating success in her profession using her hands, feet, abs or whatever body part she needs; particularly, her mind. Recently, she established a circus theater company, Loki Circus Theater, and is also (currently) a circus art teacher at Circus Warehouse in Long Island City, Queens instructing the next generation of people inspired to be artists.

After talking with Susan, it seems that the emotional and spiritual impacts of her performances on others may be an element that drives her to continue practicing this art.
Her first professional performance was with Circo Zero:
To Susan, this show may have helped people heal during a devastating time in America.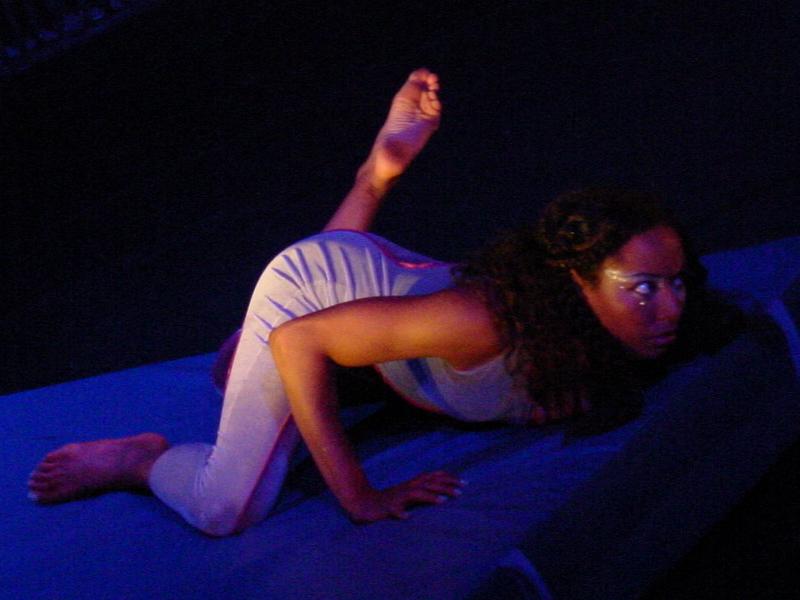 Some of Susan's performances also impact the lives of children directly. In 2008, Susan performed in one of her most memorable professional performances with Universoul Circus. She recalls having a spiritual experience performing as thousands of minority kids watched her, one of the few Black female circus artists on the stage.

The powerful ability for such performances to inspire and heal the hearts and minds of viewers override any negative sentiments that some may express towards careers like her own in the arts.