Blog Editors: Sam (Minnesota) and Kristian (Bulgaria)
Wait a second… Slow down… Is it the 3rd Week of the boys' session already!? This is the week when everyone at Camp realises that time is passing by faster than we can savor it. They say time flies when you're having fun and man, we are having the time of our lives. Our third week has been a whirlwind of bittersweet emotions as we all realize how little time we have left; Seven short days, and it's over. But now we invite you to relax, let us pull up a chair as the CRS Blog Leaders proudly present, your Blog.
P.S. If you are reading this Joe and Nick, WE MISS YOU!
Meet the Blog Leaders: The Journey of a First Year Camper
(I'm Sam, Sam I am… And this is Kris, Kris he is...)
My name is Sam and for everyone reading this, whether it be my parents (Hi Mom and Dad), a fellow camper or a future one. I'm going to try to share some of my experiences here with you. I'm having one of the best summers of my life. That may seem like an exaggeration, but it's not. Honestly this Camp is not what I expected it to be. Having a brother who went to Camp, I've heard a great deal about how this place becomes a home and how the campers become a family. Everyone at all the alumni gatherings always said it was a life changing experience. At the time, I couldn't see what was so special about it and throughout my three weeks here, I've been trying to figure that out. What I didn't realize was that while I was thinking, everything that is special about this place and everything that makes us a family was going on right before my eyes, and it had been doing so since day one. Anyways, I can't really tell you what Camp is like, no one can. But I can say that I don't want to leave and the fact that we only have seven days left makes me start to miss this place already. So yes, I am really having one of the best summers of my life. Now the only thing that would make it better is if I finished my summer homework.
Hello, I am Kristian from Sofia, Bulgaria. Well, where do I start with this? Oh, I remember, It was 6AM and I was drinking a Coke Coffee (Coca Cola with a ton of coffee in it) in the Sofia Airport. I hate coffee, but this one had emotions in it—it had a month of excitement somehow incorporated into it. It was a long flight, but the emotions of going to a new country and meeting 80 new people kept me awake (so did a phone, a Nintendo Switch, the plane's entertainment system and hours of Spotify songs downloaded, all things that I had to give up to enjoy the CRS experience two days later). My host family was amazing. Phil (New York) showed Javid (Azerbaijan) and me around Manhattan, and we had tons of fun. I destroyed them both at Monopoly (it was a test to our friendship but we passed it). When I arrived at the meeting spot, second years Kion (New York) and David (Colombia) greeted me and did their best to make sure that I felt at home. When we arrived, the counselors and the rest of the second years sang us The Welcome Song. Then came the tent part… for a person who has slept in a tent in which you can't stand up on a beach, I was not afraid of sleeping in a huge tent with real beds… That was a mistake. Never, NEVER underestimate the tent experience at CRS. If you do, you will get eaten by a spider… Or a giant mosquito… Or both. The second day I tried to introduce myself to everyone who I missed on the first. Ever since then I have been having great fun. Everyone loves this place so much that during the hiking trip people got campsick, not homesick.
Into The Woods
The second camping trip was one of the most important moments of our 3rd Week. We were walking around the campus, thinking of what to write about it, when we heard a rumor that Amrinder (Counselor, New York) had never gone camping before. We had to seize the opportunity to interview him immediately, so here's an interview with him!
Interview with Amrinder, New York CRS 2019 Counselor
Kris: Was the trip fun?
Amrinder: Absolutely!
K: What was the most difficult part?
A: The walking speed. Some people were walking fast and some slow and that created a separation. I would have wanted for us to stay together and walk alongside each other. I get that some people might have more energy and walk fast, but it would have been nicer to go as a unit.
K: What were your expectations and were they met?
A: My expectations were beyond exceeded. Stuff like putting up a tent, rationing food, building a fire was definitely a highlight.
K: What was your favorite part of the trip?
A: Going to the Observatory. There was a meteor shower that night and everyone was super excited to see it. It was my first experience along with camping itself.
K: What was your least favorite part of the trip?
A: Not having enough wood for the fire. Sometimes we just wanted to put up a fire, but we did not have enough wood. We wasted a lot of time looking for wood around our campsites.
Another low was people stressing too much about getting enough of the s'mores.
K: Did you get any ticks?
A: I don't know. If yes, I probably have Lyme Disease at this point.
K: Is there something you learned from the trip?
A: I recognized the luxuries we have in our day to day lives. Some people are forced to live like this. I am wondering if I would be able to survive having to live like this for an extended amount of time.
K: Thank you for sharing this, Amrinder!
A: Thank you for interviewing me!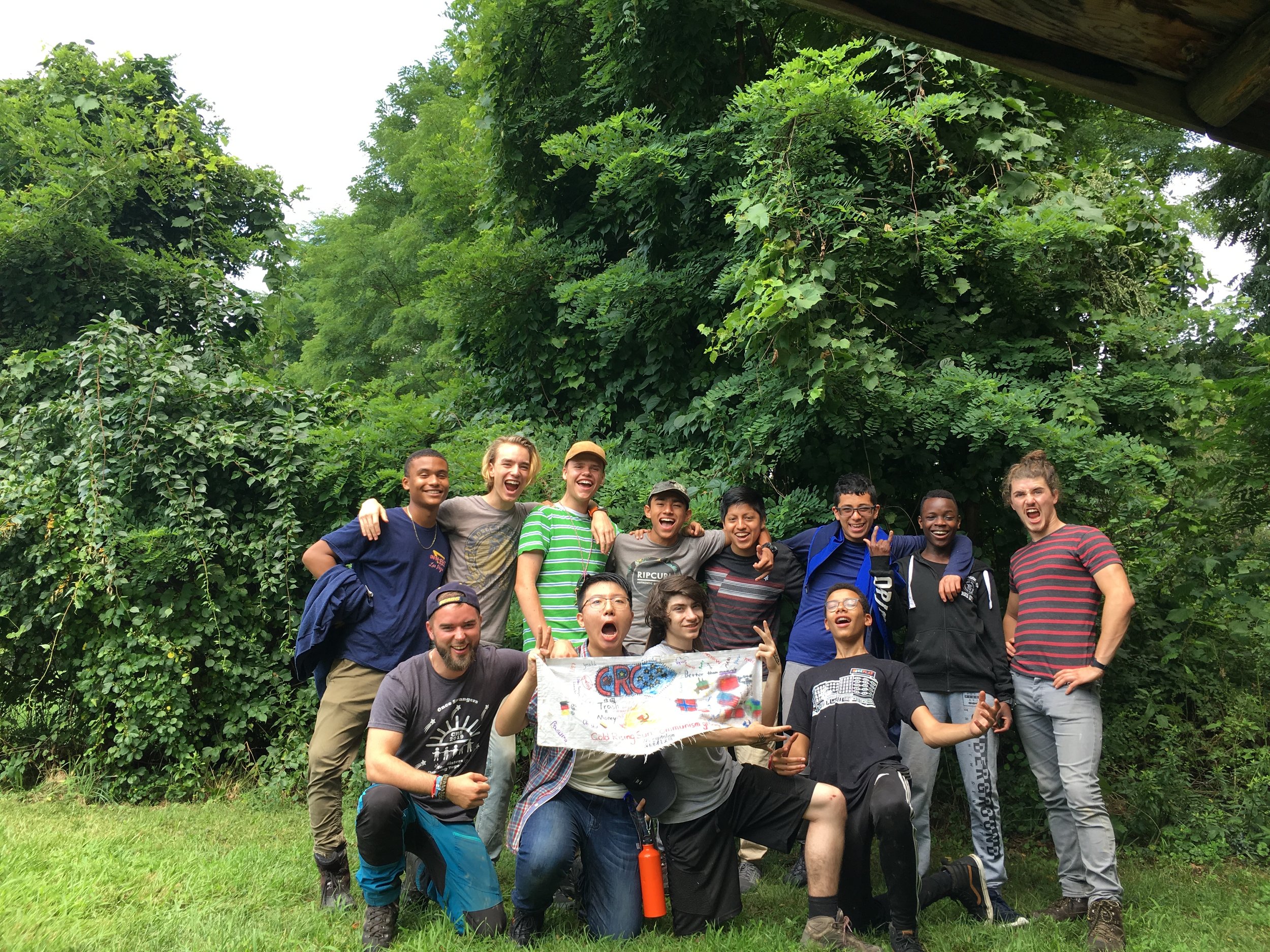 Prom Night
Campers put on their best dresses, asked out their dates, and busted out some sick moves for prom night here at Camp. One of the themed dinners this week was based around the American concept of prom. For our international readers, prom is a formal dance held by a high school at the end of the academic year. Campers were all given invitations during an assembly and were asked to find "dates." The dress code was "anything fancier than a t-shirt." The leaders of the themed dinner chose to move all the tables to the sides in order to create a dance floor. There was also a photo booth with props on one side. Campers were able to to request songs to be played and danced to each and every one of them. As the dancing continued it pretty much just turned into a mosh pit. Though the party was cut short by kitchen teamwork, the after party raged on outside of the dining hall. So thank you to the leaders of this themed dinner. You all did a fantastic job.
Kristian (Bulgaria) and Sam (Minnesota)
Pool Party
This week was hot, but on the last Rest Day, Maverick (Minnesota) and Lazlo (Colorado) thought of a great idea to keep the spirits up and the temperature down—a pool party. In the morning they set up a sheet to write down your favorite songs on and used it to create a party playlist. While half of the people were in the pool, the other half were playing Ultimate Frisbee with Joe (California) who plays it professionally (we miss you Joe). The game was very intense and evenly-matched. The winning team won with only one point difference. Everyone had a lot of fun and it was the most eventful Rest Day yet.
Kristian (Bulgaria)
Variety Show
This week's Variety Show was a great break from reality. Our campers were able to successfully raid Area 51 and set up a stage in the middle of it. The show leaders Lazlo (Colorado) and Rasmus (Denmark) did an amazing job with the theme and were able to organize it on All Leaders Day, which is much more difficult than it sounds. On this day, there was no schedule, and it seemed like Mission Impossible to plan the show. As always there was a lot of variety in the Variety Show—we had people singing, doing improv, playing instruments, showing magic tricks, performing drama and saying a camper's name. For the grand finale Yu (Japan) invited everyone to join him and sing Country Roads together and thus showed how close our community really is.
Identity Evening Program
Which part of my identity is most important to me? Which part of my identity do I want to explore more? Which part of my identity do I struggle with the most? These are some of the questions campers were faced with on Tuesday's evening program, which targeted analysis of intersectionality and allowed for self reflection. Posted around the gym were several different identity markers: Race/Ethnicity, Citizenship/Nationality, Sexual Orientation, Socioeconomic Status, Familial/Heritage, Education, Abilities, Political Beliefs, and Age. Campers were given an open-ended identity question, and walked to the corresponding identity marker that best answered the question. The activity was followed by a 45 minute feedback session -campers split into groups and discussed their thoughts on the program.
Interview
Isaiah: What was the most interesting thing you witnessed in the evening program. Did anything surprise you?
Sam: When asked what part of your identity you wish you didn't have, I was really surprised to see that everyone actually chose an identity marker rather than just staying in the middle - I was surprised how many people wanted to get rid of a part of their identity instead of just being themselves.
Isaiah: Did you have any difficulty with the program?
Sam: Some of the questions were definitely challenging but in the end I would just go with my gut. And sometimes I found myself in places that surprised me.
All Leaders Day
This week, the traditional concept of having only two leaders was forgotten. For one day and one day only, we were all leaders. Jokingly dubbed Anarchy Day by a few of the campers, this was a day where the counselors answered no questions, gave no advice, and only interfered in emergency situations (which thankfully did not occur). The day was left up to us. We had a bit of a rough start, especially during breakfast, where several people, including myself, did not get any because of the mob of campers that swarmed the food. However, this did serve as a learning experience for the community. We learned that in the absence of a set leader, we must all have a mutual respect for one another for the day to run smoothly. I think throughout the day we all learned valuable lessons about respect and teamwork. Even though it had the nickname of Anarchy Day, it was in reality, anything but.
Camp Haircuts (Elijah's Barbershop)
We've got a new pro here at Camp and the need for his service is continuously growing. CRS camper Elijah (New York) has started to give haircuts to his fellow campers, and though he may not have any idea what he's doing, he sure looks like a pro. When asked where he learned these skills, Elijah replied, "I'm just trying to do what it seems like the barbers do when I get a haircut. I've never actually given one before." Even though Elijah doesn't really have any idea what to do, several campers are lining up to get a haircut from the pro. He has given them during rest hour, projects, SST, and he even gave one during assembly. Elijah's extensive list of clientele includes Andrew (New Jersey), Vittorio (Italy), Antonios (Greece), Kion (New York), and Sam (Minnesota). Having gotten one myself, I can personally say that it felt like a real barber and looked, well, almost like a real barber too. Keep up the good work, Elijah.
Leaders of the Week
Saturday: Renzo (Perú) and Vittorio (Italy)

Sunday: Julius (New York) and Tony (China)

Monday: José (California) and Preston (New Jersey)

Tuesday: Yu (Japan) and Arjun (New York)

Wednesday: All Leaders

Thursday: Antonis (Greece) and Theodore (France)

Friday: Elijah (New York) and Thapelo (South Africa)
Instructions
Tuesday
Fishing (Antonios, Greece)

Game Theory (Justin, New Jersey)

Science (Jessica, Washington DC.)

Rubik's Cube (Javid, Azerbaijan)

European Union (Jordy, Netherlands
Wednesday:
Korean Culture and Philosophy (Tae Seung, South Korea and Robin, New Jersey)

Guitar (Marco, New York and Mathias, Norway)

Chess (Vincent, Germany)

Representation in Literature and Media (Emilia, Finland)

Flying Planes (Mags, Colorado)
Thursday:
Clowning with Virginia Scott
Saturday
Cultural Exchange Themed Day
Sunday
Intersectional Identity (Raina, New York)

Cooking (Jaden, New York)

The Secrets of Bulgaria (Kristian, Bulgaria)Monday

Turkish (Can, Turkey)

Mandarin (Licheng, China)

Hungarian (Balu and Lorinc, Hungary)
Monday:
Cooking (Isaiah, New York)

Representation in Literature and Media (Emilia, Finland)

Disagreement in Film (Justin, New Jersey)