Blog Editors: Kenneth (New York) and Aliaqa (Afghanistan)
Welcome everybody to the recap of the 2nd week at the Second Session of CRS '19! This edition of the CRS Times is written by Kenneth from New York and Aliaqa from Afghanistan, two of the first-year campers this season. We're very excited to share with you the various experiences that the campers are having right now. Enjoy!
Experiences as a First Year
As Week 2 rounds to its end, campers have become accustomed to daily Camp life. Here are two camper insights on adjusting from life at home to the new circumstances at Camp:

During one and a half weeks at CRS, I have been introduced to many different things such as people from different backgrounds and with different personalities, new cultures, new challenges to partake in, new foods to eat, and most importantly, to my fears. One of my fears that CRS helped me face was swimming. I would never have overcome this challenge without other campers and counselors help. This was one of the reasons why I joined CRS. What has made CRS special to me was challenging camper's creativity through projects, building stronger relationships between campers by amazing evening programs, and motivating campers to change their dreams into reality.
As a camper from the bustling city of New York, the lack of typical urban sounds was something that I had to become familiar with. A typical morning at Camp would start with tumbling out of bed at 7am to the sound of birds chirping and the feeling of the crisp morning air that can't be experienced anywhere in the city. With a quick glance at my surroundings, it's clear that few elements from the normal city lifestyle can be translated to the daily activities of Camp. One of the main reasons why I joined Camp was to build on my leadership skills, but an additional bonus was the escape that Camp provides me from the loud, fast paced manner of living in the city.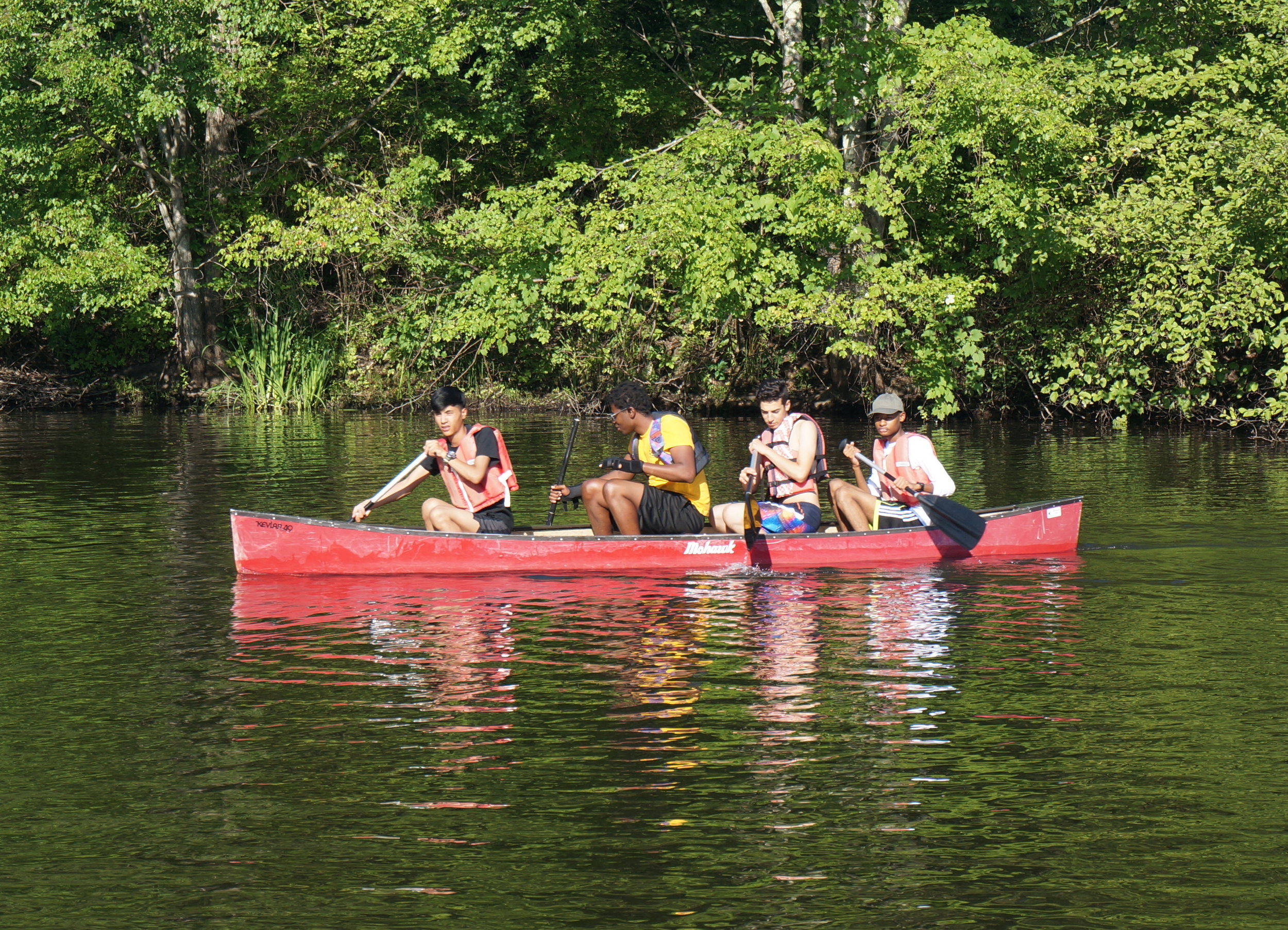 Birthday at Camp
The first camper-led evening program and camper birthday took place on back to back days this week. Here is a reflection from the camper who led both an evening program on communication and celebrated his 15th birthday this week:
One of the luckiest things for a camper is to have a birthday at CRS, because you have the chance to enjoy your birthday with 60 campers from around the world. I had my 15th birthday on August 6th, and it was one of the most memorable moments I've ever had. Campers sang the traditional "Happy Birthday" song to me in various languages such as Turkish, German, Polish, Russian, Korean, Spanish and finally my native language, Chinese. After all of the singing, the chefs brought the cakes out, which were beautifully done and on it was "Happy Birthday Licheng" in Chinese. However, before the eating of the cake, a special Camp tradition had to be done that I will never forget. I was asked to sit on the special "birthday chair" which was handpainted by campers years before. Afterwards, all of my friends lifted me up and down 15 times to celebrate 15 years of life that I was marking. The icing on the cake was looking in my mailbox after the party and finding a printed email from my mother, in which she wished me happy birthday and told me to take care. This was probably the first time through all of Camp that I felt homesick for a little bit, but the thought of all my new friends at Camp washed these feelings away. All in all, this will definitely be one of my most memorable birthdays ever and I appreciate all of the campers and staff that took part in this celebration.
Wilderness Trip
On Monday, half of the campers and staff took part in the first wilderness trip of the boy's session. The three day, two night trip took place at the former campus for CRS, Red Hook, where campers explored the campus and learned various survival skills. Here is some insight from a few campers who took part in the trip:
The hiking trip was a life-changing experience for me. Despite the many hardships that I had to face surviving 3 days in the wilderness, I learned so much with every setback that I encountered. Living in the woods also made me think twice about things I found so trivial in everyday life, such as making something as easy as oatmeal or even finding a good place to sleep. I also discovered the effectiveness of a Danish pot in cooking on a real fire as opposed to a gas stove. Sleeping in the wilderness was also a struggle, but it only fostered a greater appreciation for having a clean room to sleep in at home. Lastly, the mindfulness walk was one of the best parts of the trip. We hiked through the woods for a couple hours and the hike allowed us to experience all of our surroundings in so many different ways. Every sound was amplified and every feeling that I had seemed so much stronger just being outside in the natural world. The hiking trip allowed me to really reset all of my thoughts and feelings from the past week and a half at Camp and provided me a way to just enjoy the outside world.
Going into the hiking trip, I had set several expectations based on last year's experience. I expected for the rain to ruin most of the Camp activities and for the sleeping situation to be less than up to par. While it did rain and the tents were cramped, those circumstances did not stop us from bonding in a unique and memorable way. From running out of water to tick-checking each other in the dewy tents, we learned more about each other in the three days spent at Red Hook than in the past two weeks at Camp. On Monday, we embarked on our twenty minute journey listening to pop music and watching the beautiful scenery. At Red Hook, we rucked for thirty minutes, holding poles, full water jugs, and other basic necessities; after setting up Camp, Nicklas (Greenland) led us in a guided goal-setting session where we planned our expectations for the next few days. Later that night, Vittorio (Italy) cooked the Pasta Bolognese while others helped to chop the ingredients and tend to the fire. On Tuesday, we had instructional rotations where Collin taught us about first aid, Cameron showed us how to properly use an orienteering compass, and Leo made us build a makeshift shelter. For dinner, we started a large fire, as it battled thunderstorms and heavy rain. Over the next three hours, we made a large stew consisting of lentils, potatoes, and other vegetables that represented our "blood, sweat, and tears." The next day, we packed up and left Camp with the thought of "No trace left behind" in the back of our heads. While I came into this hiking trip with a rather negative mentality, I came out of it with a newfound appreciation of my fellow campers and the bond that we will now share over the next two weeks.
Leaders of the Day
This week, we had our first set of first year campers become Leaders of the Day, a role that is the paramount position in Camp. Leaders plan out the entire schedule for the day and manage nearly every aspect of what the rest of the campers do, ranging from meal times and team-works to even the smallest details such as the exact times for assemblies and the theme for the day. Here are all of the Leaders of the Day and a short reflection from each of them:
Saturday: Sam (Minnesota), Taeseung (South Korea)
Taeseung: I really felt like serving the community, however, it was hard and had its difficulties, but it was fun organizing the day by ourselves and it was meaningful for me.
Sam: Cray. One word. Cray.
Sunday: Philemon (New York), Mathias (Norway)
Mathias: It was an exhausting but really fun experience.
Philemon: It was a lot of work, but in the end, I learned a lot about leadership and it was really rewarding.
Monday: Kevin (New York), Oskar (Denmark)
Kevin: It was interesting and it was fun to lead with half of the camp on the hiking trip.
Oskar: It was really fun and I think my day went really well.
Tuesday: Robin (New York), Mohammad (Palestine)
Robin: It was really stressful and a bit overwhelming, but I'm ultimately grateful to have such an experience.
Mohammad: It was really good, but extremely tiring.
Wednesday: Lorinc (Hungary), Kyle (Barbados)
Lorinc: It was really stressful but rewarding in the end.
Kyle: It was a lot of work and I had to prepare a lot for it, but the experience was rewarding in itself.
Thursday: Jordy (The Netherlands), Licheng (China)
Friday: Lazlo (Colorado), Maverick (Minnesota)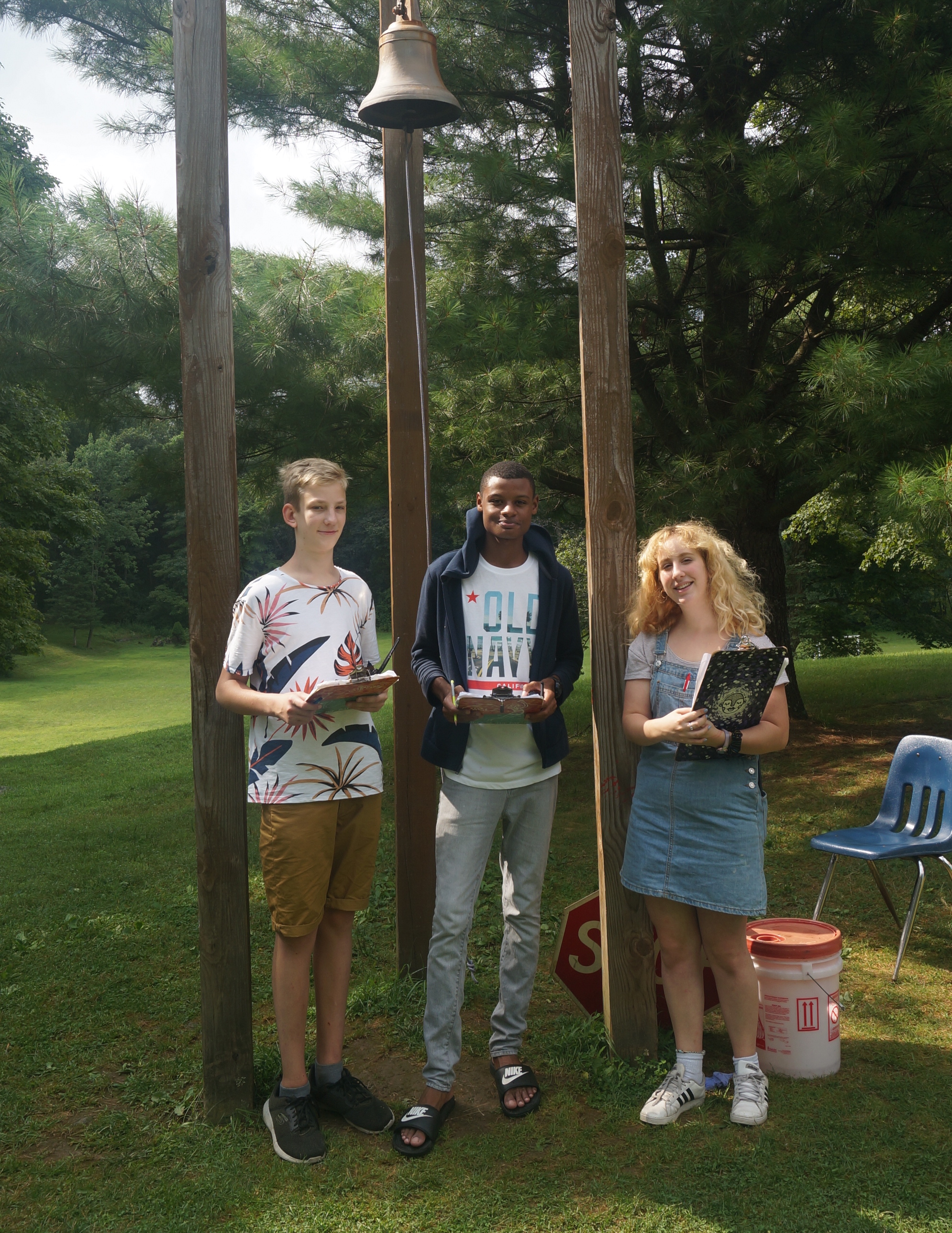 Instructions
There were various Instructions that took place through the week, ranging from sports activities such as cricket and basketball, to more serious and informative talks like international border policies and the experience of living in Palestine.
Tuesday
Basketball (Kyle, Barbados)

Happiness (Justin, New Jersey)

International Border Policies (David, Colombia)
Wednesday
Postcard Making (Lindsey, Pennsylvania)

Where do We Come From? (Gabriel, Ecuador)
Thursday:
Meme Culture (Victor, New York)

Problem Solving (Jessica, Oregon)

Swimming (Kevin, New York)

Disagreement in Film (Justin, New Jersey)

Ultimate Frisbee (Joe, California)
Saturday
Introduction to Citizenship (Jaime, Spain)

Introduction to Debate (Kenneth, New York)

Self Confidence (Laura, Colombia)

Meditation (Emilia, Finland)

Exploring the Psyche (Tom, Germany)
Sunday
Palestine (Mohammad, Palestine)

Danish Cake (Rasmus, Denmark)

Cricket (Darrio, Barbados)

Creative Writing (Julius, New York)

Interesting Questions and Critical Thinking (Joe, California
Monday
Turkish (Can, Turkey)

Mandarin (Licheng, China)

Hungarian (Balu and Lorinc, Hungary)
Language Day
As the week passed, it was shaping up to be full of new and exciting proposals to what one day at CRS could be. This is what happened: The day started as normal, but as it moved on, there was a clear theme that everyone enjoyed. Language. Throughout the day, the Leaders of the Day encouraged campers to use their native languages and appreciate the diversity we are able to observe here at Camp. After a fun day of learning new words in other languages, language instructions, and an evening program completely based around the power of different languages, we knew that the tone was set for what is destined to be a great season.
About that evening program… Let me tell you more about it. We had our first evening program designed and arranged by first year campers, Licheng (China), Kevin (New York), Lazlo (Colorado) and Jordy (the Netherlands). It started with a greeting in every camper's native languages, which eventually led to a game in which students and staff were to arrange themselves by their birthday while communicating in every language but English. This game showed the importance of language in communication and the role it plays in our daily lives. The next activity was a performance of songs from different countries in their respective languages. Campers were divided into three groups and selected one camper to teach a song from their country in their native language that everyone would perform. The groups in the end performed a Russian poem, a Dutch lullaby and a Korean pop song. The evening program ultimately achieved its goal in reminding everyone of the beauty of their native languages and the priceless culture behind them.
David (Colombia) and Licheng (China)
Who Are You?
CRS is a community of leaders from around the world, with each bringing their unique passions and cultures to the table. From the very beginning, it was clear that each camper is different in several aspects—playing the drums, organizing ping-pong tournaments, painting on canvas. At Wednesday's evening variety show, the two producers, Mikolaj (Poland) and Julius (New York), put in hours of effort setting up a replica of Woodstock '69. Despite some minor technical difficulties, the show persisted with acts such as Taeseung (Korea) and Robin (New York) singing Loco's "It Takes Time" and Licheng (China) both delivering a speech on heroism and rapping a song. During intermission, the infamous band consisting of Arjun (New Jersey), Marco (New York), Sam (Minnesota), Gabriel C (Ecuador), Ali (Egypt), and Maverick (Minnesota), played Hallelujah and Imagine. Although the show went on for almost three hours, ending at 11:00 PM, Camp spirit was high on adrenaline as campers cheered on their fellow community members who put on an entertaining performance. As the name implies, the variety show had a large variety of performances that only strengthened our belief in CRS's world community.
This Week's Evening Programs
Saturday: Activism and Getting Involved in Politics
Sunday: Camp Rising Sundance Film Festival
Monday: Language Night (Leaders of the Week)
Tuesday: Cultural Exchange
Wednesday: Variety Show
Thursday: Council
Friday: Amazing Race Scavenger Hunt (Leaders of the Week)
Projects of This Week
Tent Hill Swing: This project was led by Oskar (Denmark) to rebuild the Tent Hill swing after its tragic demise on day two of camp. "I had fun, being the leader of the swing, everyone was so helpful and engaged doing something for the community," said Oskar.

Lean-to Stairs: This project was led by Kyle (Barbados, to build stairs for some of the lean-tos. "The lean-to project was not difficult. It was very time consuming but fun," said Kyle.

Imagine CRS 2019: This project was proposed to repaint a piano and to make a music video and was led by Maverick (Minnesota). "If you can imagine it, you can make it happen. Nothing is impossible," said Maverick.

Photos by Licheng (China) and Arjun (New Jersey)