Blog Editors: Solveig (Norway) and Pema (New York)
Welcome all, this week's blog was written by Pema and Solveig. We are super excited to share our fun adventures with you all.


I am a 15 year old girl from Oslo, Norway. I am interested in politics and social studies, and I am thinking of becoming a journalist. I applied to Camp because I thought it seemed like a unique and life-changing experience. I am very excited to write the blog for this week, and I am very glad to be a part of this team.
-Solveig
My name is Pema. I am a 16 year old from NYC. I am a rising senior and am interested in double majoring in Psychology and Women Studies. I speak English, Nepali, Hindi, and a bit of Spanish. I applied to Camp because I thought that this amazing opportunity would help to broaden my horizons and help me grow into a more caring and understanding citizen of the world. I love reading and writing in my free time, and I am excited to write the blog post for this week.
-Pema
Below is a deep dive into Week 2 at CRS as told by our campers and edited by Pema and Solveig.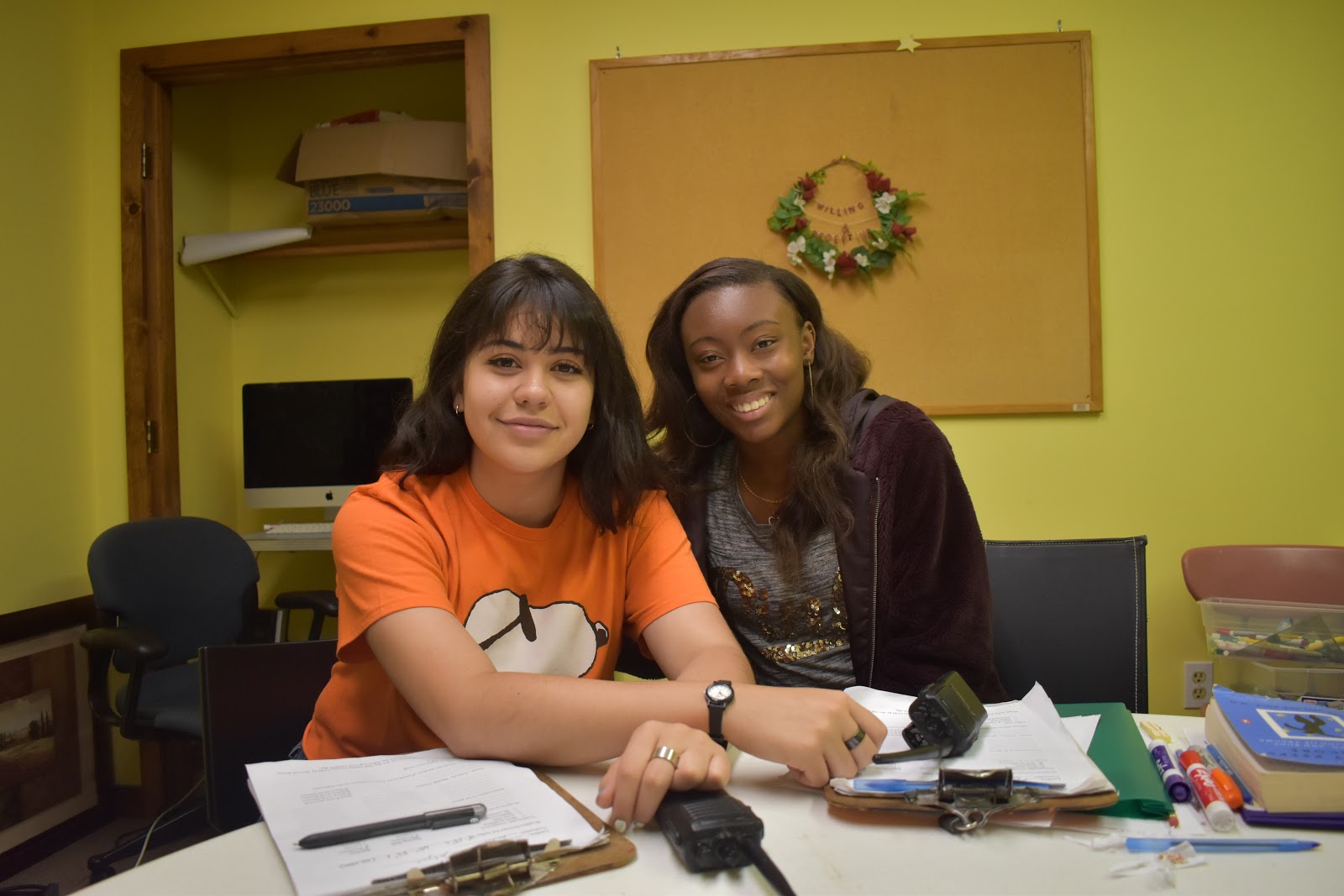 The second week has arrived, and with it, the first set of 1st year campers were leaders of the week. It's a challenging job, where a good plan is vital. The girls have met challenges like rain, time management, and a broken dishwasher with flexibility, patience, creativity, and positivity. This week's inspiring and motivating themes were courage, culture, and trust which which was met with smiling leaders who did not turn down a challenge. The week has gone by smoothly. It is amazing how fast a day can go by when you are having fun!
"If we start appreciating small victories, there is no need to have a finish line"
-Mahi (India)
"Celebrate diversity and good ideas"
-Mawada (NY)
"Being a leader means supporting your community, being fair, and equal"
-Bella (Minnesota)
"So funny and excited!"
-Ida (Denmark)
Wilderness Trip
Half of the campers were divided into groups of 10-12 for the first wilderness trip of the 2019 camp season. The wilderness trip is a three day camping trip to the original CRS campsite at the Red Hook campus. Campers are challenged to step out of their comfort zone and explore the wilderness while practicing traditional camping skills such as building a fire, cooking outdoors, sleeping out in tents, and more.
"I was asked to write 2 things I enjoyed the most about the camping trip, but that is impossible. I loved everything about it. From Jorge's jammy music in the car ride toward the campsite to the triple naps on Emilia's hammock. The three of us were comfortably able to nap at once and it was absolutely amazing. In addition, we also had scary stories with Leo. It was the best time, and an amazing experience.
-Melika (Denmark)
Summer green
trees up so high
rising sun at nine
we feel so alive
Buzzing bees
we highly dislike
but we try really hard
to treat everyone alike.
-Jenna (New Jersey)

Highlights of the Week
It was only the first day of the week, and the counselors had already raised the bar with the Evening Program. The first part of the Evening Program contained activities like black-out poetry and body movement. Afterwards, we met in front of the gym, which had been closed-off for the day. With high expectations we entered the room which no longer a plain space, but a jungle of string, lights, and music. A big canvas was taped on the floor, with paint, shaving cream and spaghetti smeared on it. In silence, we got to bring out our inner child, get dirty and be careless. Truly, a unique experience.
This week, on Monday evening, we had our first Movie Night. The leaders of the week planned out a cozy evening program that took place in the Campers Lounge. The campers were able to snuggle up in their comfy PJs to watch the movie Coco. There were tons of popcorn and tears involved.
This week also brought along our first variety show of the camp season. The show was produced by Noa and Sarah and was filled with a variety of talents from around the world. The performances were composed of both campers and counselors and ranged from slam poetry to classical Indian dance performance. Other performances included a group song, violin performance, duet singing piano performance, and essay recitation.
Instructions
There were a lot of interesting Instructions this week, really something for everyone! This week also brought along something new—the first Instructions led by 1st year campers! Below the list of Instructions, you can read about Eisha's experience, the first 1st year to give an Instruction.
This Week's Instructions
Tuesday
Elyem and Olivia - Cultural Appropriation
Wednesday
Justin - Human Rights

Andiswa - Net Ball

Joanna - Programming
Thursday
Michele - Debate

Weronika - Clowning

Mahi - Dance

Olivia & Emilia - Menstruation
Saturday
Jonas and Seamus - Wilderness Basics

Raven - Mindfulness

Eisha - American Sign Language

Briana - Veganism

Darrio - Cricket

Sunday
Ritam - Improv Comedy

Camila - Ecuador

Marysha - Poland

Mirthe - Holland

Shimako and Kirari - Japan
Monday
Woohyun - Self Defense

Jaime - Refugee Flows

Ming - Ballet
Eisha's Instruction:
Eisha (California) was the first 1st year to give an Instruction. She told us that it was a fun experience to teach about the exciting, as well as important, topic American Sign Language. When asked exactly why she chose this specific topic, she explained the importance of learning to communicate with deaf people, as well as having a greater understanding for the deaf community. This message seems to strongly reflect our CRS mission of working towards inclusion, acceptance and diversity.

Upcoming Changes to Tent Hill
This new season has brought along a fresh set of ideas to help improve CRS. Some changes include the construction of side coverings for the lean-to, the re-construction of the bridge across the backside of the lake, the redecoration of the cabin rocks and bookshelves. In addition, other changes to the campground include the ongoing construction of the camp tree house by the lake and the transformation of tents to lean-tos. Every lean-to will have the opportunity to add a side covering. This side covering will serve as a door/curtain. The old tent was replaced by a new lean-to, and the platform of the old tent is being broken down. The materials from the old platform are being used for the reconstruction of the bridge behind the lake. These are just some of the ongoing projects for the season, and there will be much more in the upcoming weeks.
Letters from Camp:

היוש למשפחה הכי מושלמת שיש, זאת מיקוש!!!
שולחת לכם את אהבתי מניו יורק הרחוקה. הכל הולך בדיוק כמו שציפיתי. נכון שהיה קשה בהתחלה, אבל אני מוצאת את עצמי פה לחלוטין ומודה על ההזדמנות להיות פה.
אני ישנה לפחות 8 שעות בלילה ומנצלת כל רגע ורגע. מתגעגעת אליכם וחושבת עלייכם כל דקה כאן.
שלחתי לכם מכתב בשבוע הראשון אבל כנראה שהוא עד לא הגיע… סבלנות!
אוהבת אתכם הכי בעולם ותזכרו תמיד שאני נהנת פה מכל רגע ולא יכולה לחכות לשיחה הבאה שלנו.
Hej, mamma och pappa!
Vad händer för er? För mig händer det saker hela tiden, man får nästan aldrig någon lugn och ro. Men jag lär mig mer och mer varje dag, t. ex. som att jag nu kan spela ukulele. Saknar er och hejdå, Asta.
Sziasztok!
Bar eleg fáradt vagyok, nagyon élvezem a tabort. Nagyon nagyon szeretlek titeket, hamarosan beszelunk!
-Panna
Kære familie
I er sikkert spændte på at høre fra mig. Jeg kan allerede mærke at den her camp kommer til at sætte spor i mig. Det her er virkelig et sted for alle. Jeg glæder mig til at komme hjem til Danmark, holde ferie med jer og spise rugbröd igjen. Kram Ida
ママ、パパ、まなへ
もうすぐキャンプに来て二週間がたちます。最初の一週間は新しい環境に慣れるのがとても大変でしたが、今はたくさん友達もできて、毎日充実した、楽しい生活をおくっています!この二週間だけで、男女平等や環境問題について議論したり、手話やアイスホッキーを仲間達から学んだりしました。世界中から集まった高校生達との生活は本当に面白くて、刺激的です。この貴重な一ヶ月、1日1日を大切にしながら様々なことを学びたいと思います!
あと、スリーピングバッグありがとう。おかげで毎日ぐっすり寝れています。まなは、勉強、部活、他の活動頑張ってね。私もこっちで頑張ります。
二週間後会えるの楽しみです。帰国後、たくさんのお土産話聞いてね。
あと、たくさんメール送ってね。(友達にも伝えて〜)それでは、バイバイ!
きらりより
Hi mummy and papa! (and maybe didi)
Having a dandy time in camp, but still missing you a lot!! I didn't even know you were savvy enough to use the blog! Hope you're enjoying plenty of pink drinks and mosquito-netless nights back at home and that I can see you real soon!
Lots of love from camp, Ankita
Γεια μαμά και μπάμπα,
Ελπίζω να είστε καλά! Έχω τόσα πολλά να σας πω όταν γυρίσω. Γνώρισα πάρα πολλά κορίτσια και κάνουμε τόσα διαφορετικά πράγματα εδώ. Αυτή την στιγμή φτιάχνουμε μια γέφυρα και θα είμαι αρχηγός της εκδρομής στο δάσος. Δώστε χαιρετίσματα στον Παναγιώτη, την γιαγιά και τον παππού. Σας αγαπώ πολύ! Φιλάκια.
-Μαρία Λουίζα
Mom
I used a machete
-Frances
Hello mama and deddy.
Ngiyakhumbula kakhulu. Ngitnole izinto zakho ongizithumele. Unjani uadniwe? Lezi zinsuku begidlala kakhulu. Cela ungibhalela ngoba ngiyajabula kakhulu. Ngiyakuthanaa kakhulu. Mwah xoxo.
-Andi (Ndi)
Hey Mama, Baba, Maha, Mamie, Pacidi, Hbibi Amine, Tati Imane, Ali et Zineb… Je reçois tous vos messages et vous me manquez tous énormément ; hâte de vous revoir dans 2 semaines inchallah ! Svp, envoyez le bien à Abir pour qu'elle puisse m'envoyer des messages aussi. Et SVP, envoyez le plus de message possible, chaque jour si vous le pouvez (précisez-le à Abir aussi), j'aime avoir de vos nouvelles ! Gros gros bisous, je vous aime. <3
-Rim